"We must keep talking about rape in war"
Almost 30 years ago, The Kvinna till Kvinna Foundation was founded when reports of mass rapes in the wars in former Yugoslavia reached Sweden. Since then, we have worked to end rape in war. Today, we work in 20 conflict-affected countries across the world—always in partnership with the local women's movement.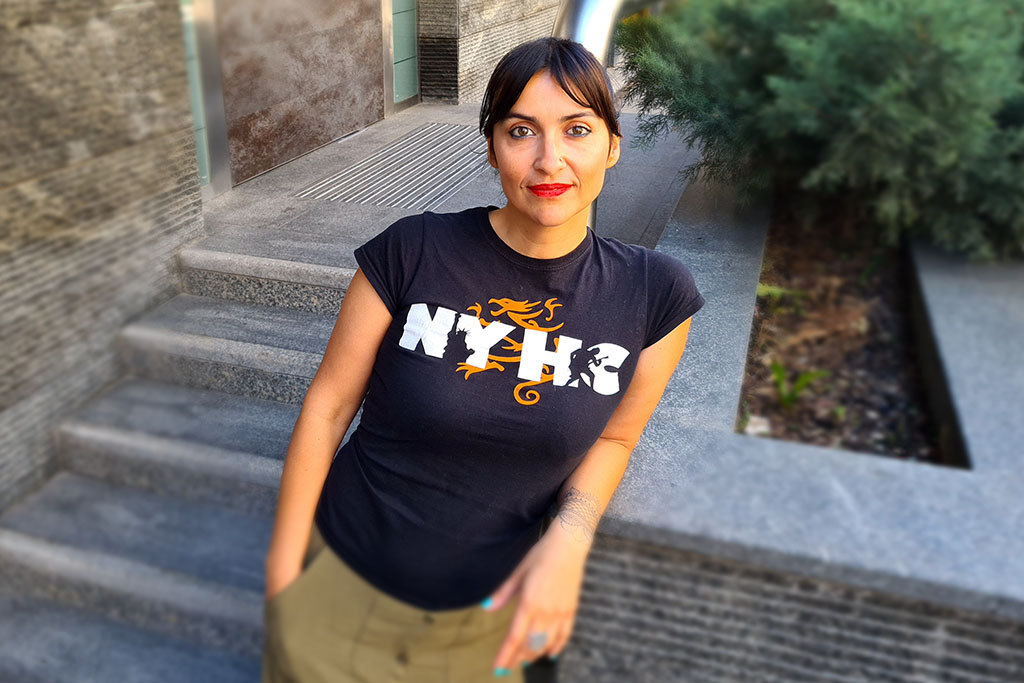 Every year, June 19th is observed as the International Day for Elimination of Sexual Violence in Conflict. It marks the date when, in 2008, the first Security Council resolution condemning conflict-related sexual violence as a threat to international peace and security was unanimously adopted. We have spoken with one of Kvinna till Kvinna's own experts on the topic, senior programme officer Belma Becirbasic, based in Sarajevo, Bosnia and Herzegovina.
Why is rape used as a weapon in war?
"There are two main aspects as to why rape is used as a weapon in war.
One, because of deep-rooted misogynistic view of a woman as a man's property and of masculinity as symbol of protection and strength. In war, a woman's body then becomes part of the battlefield, connoting the besieged territory, where a man is overpowered as a sexual and military rival.
Rape is the most horrific act of violence you can commit against a woman, especially during war when it's perpetrated multiple times and by different men—it destroys her personal and political integrity, her ability to be a functioning member of society. Women are traditionally seen as pillars of society, of a collective group they belong to, in majority of cases, ethnic or national group. Taking control of their bodies, their most intimate selves, is a means of exerting power over the opponent, shaming the enemy, destabilising the very fabric of the 'despised' group.
It sends a message to the opponent that 'you are weak'. It lowers military morale and furthers collective victimisation. And this is what's most difficult to swallow, so to say: that rape hasn't the immediate goal of humiliating women, but the community they 'belong' to.
Secondly, it is used to forcibly displace of group of people from a certain territory, as a means of ethnic cleansing. Because women survivors never, or rarely, return to the place of trauma."
Why is it so hard to convict perpetrators?
"Yes, that is the question—why? Even after all the available mechanisms that have been installed by the international community. Even after all the resolutions passed by the United Nations. Even after it has been recognised, almost three decades ago as a crime against humanity, an instrument of genocide, as a psychological and propaganda driven strategy of war.
I think, sadly, it has less to do with the fact that it is hard to investigate these crimes as they happen and more with the fact that crimes against women are still deemed less important than other crimes, as mere collateral. At least, that is the message being sent by the lack of any international criminal justice system response to the rapes occurring as we speak, just to mention Ukraine.
That is why we repeatedly have to remind the international community of their commitments and continue to raise awareness and build blocks of resistance. We must demand accountability."
How does Kvinna till Kvinna work to end rape in war?
"First and foremost, by supporting women's rights organisations in places where mass rapes have occurred to provide survivors with psychological support and legal aid, so to help them overcome their trauma and seek justice and reparations for the harm they suffered.
But, besides this, as I see it, we are going against the whole system that enables the structural violence, which is a system of patriarchy, nationalism and militarism. Basically, everything we do is in a way setting the ground for the non-repetition of violence. Through our holistic work, we challenge the culture that oppresses women's bodies, that allows political and economic inequalities, because all of these are root-causes to sexual violence in war and conflict.
We work to empower women's voices and agency, their ability to change the environment that perpetuate these inequalities and discriminative practices. All this with a hope it prevents future conflict-related sexual violence."
What is happening in Ukraine right now?
"What's happening in Ukraine … leaves me speechless. I just couldn't believe, when first reports of sexual violence came … is this happening over again? It was my worst fear since the day the invasion started.
We need to understand the state of war, the armed conflict, as a total disintegration of social norms as we know it. During these times, the normality of the social order is suspended, inciting a kind of 'opportunistic behaviour' among combatants, usually those of 'occupying' forces, many end up doing what they want—loot, kill, torture, rape. Because they know they won't be sanctioned. We have allowed this "non-sanctioning" environment to flourish, where there is impunity.
But mainly—the rapes are happening strategically, for the same reasons I mentioned earlier. We still don't know to what extent. It's barely investigated, news coverage is poor, even trustworthy media outlets are failing in meaningful reporting, with sensationalism and relativisation dominating social media. Among dozens of daily news headlines about the war in Ukraine, recently all seem to be about the military conflict and foreign policies' calculations, rarely of its impact on civilians there, crimes committed, let alone of sexual abuses.
Through the activists we are in touch with, we know for sure there are hundreds of women and girls who are victims of rape and gang rape, dozens of which have been forcefully impregnated. Many aren't able to open up, out of fear, yet mostly out of shame. Numbers are irrelevant … ten known cases are enough of a wake-up call. We connected neuropsychiatrists and activists in Ukraine with experts from Bosnia and Herzegovina, to help them in how to approach and support women subjected to violence.
What I fear most is that these atrocities will go unpunished. Russia is not only denying such crimes, but knowing they are currently out of the international human rights order, and not party to the International Criminal Court, they couldn't care less about any calls to accountability. Regardless, responsible international authorities MUST document and investigate these crimes, preferably all the way to the chain-in-command, but I fear it won't be done while the war is still on-going. That is also why we cannot rest, we must keep talking about the sexual violence that is going on, right before our eyes. Not wait until there are thousands of women."