Write-up from the workshop on strengthening the capacity of WNBiH – Monitoring of women's rights in BiH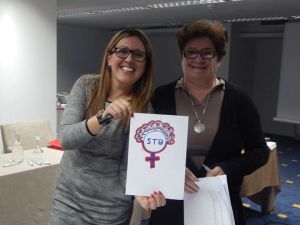 Within the project "Improvement of women's human rights by strengthening the Women's Network BiH", implemented by the CURE Foundation and the Sarajevo Open Centre, and with the support of the Royal Norwegian Embassy, a workshop on MONITORING OF WOMEN'S RIGHTS IN BiH was held from 19th to 21st December 2014 in Sarajevo. The workshop was led by Vanja Macanović ("AŽC", Belgrade) and Đurđica Ergić ("BIBIJA" – Roma Women's Center, Belgrade). The workshop brought together representatives of the Women's Network BiH, a total of 22 participants.
This workshop was primarily intended for organizations that, within the needs assessment analysis of the memebers of WNBiH, expressed the need for more education on the monitoring of women's rights, as well as for organizations that will in future work on the preparation of the Alternative Report on the implementation of the CEDAW Convention in BiH.