Somebody said feminism: What are we saying when we say the F-word?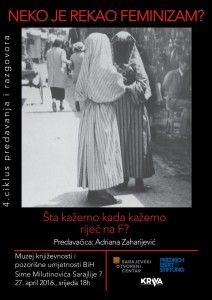 Fourth Series of Lectures
SOMEBODY SAID FEMINISM?
March-November 2016
Sarajevo Open Centre and the Friedrich Ebert Foundation in Bosnia and Herzegovina will organize 6 lectures in 2016, which will cover the following topics: Antifascist Women's Front Archive BiH, ideology and language, challenges facing feminism today, feminist critique of political economy, the relationship between religion and feminism and reproductive rights.
27 April 2016 (Wednesday)  6 P.M.
Topic: What are we saying when we say the F-word?
Lecturer: Adriana Zaharijević
Place: Museum of Literature and Performing Arts Sarajevo
This lecture will reflect on feminist developments in the region over the last few years – since the bookSomebody said Feminism? How Feminism Affected the Women of 21st Century was published. Important, but also somewhat controversial questions on feminism will be discussed – questions that might not have been very relevant to our lives until recently.
About the Lecturer:
Adriana Zaharijević is a feminist, philosopher and a translator. She is one of the most active third-wave feminists, the author of the book Becoming a woman (Rekonstrukcija ženski fond, 2010) and the editor of the compilation Somebody said Feminism? (2007, 2008, 2009 and 2012). Her latest book – Who is an Individualwas published in 2014.